SUPOSHIT JAISAN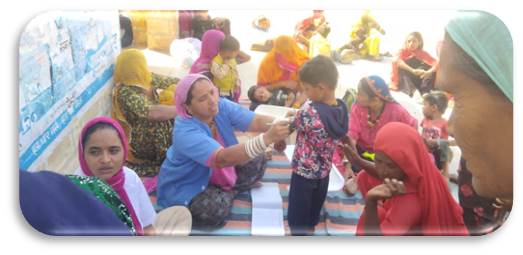 Detail of the Initiative/work :

This innovation was initiated to screen approx. 1.23 lacs children of age group 0-5 years (which includes children registered at AWC and children not availing ICDS services) using growth measuring devices and MUAC tape and treating them at MTC (Malnutrition Treatment Centers) or community based malnutrition management program as per need. Screening camps were organized across 862 villages of all 7 blocks and 2 urban local bodies with coordination of ICDS, Medical & Health and Panchayati Raj under guidance and direction of District Collector.
Category

NFHS-5

NITI Indicator JAN 2021

Rajasthan

Jaisalmer

Underweight

27.60%

31.70%

17.32%

Stunted

31.80%

25.50%

17.85%

SAM

7.60%

13.80%

3.28%

MAM

16.80%

25.00%

8.67%
The 5th round of NFHS, found that prevalence of underweight, stunted and wasted children under 5 years in Jaisalmer was 31.70, 25.50 and 38.80 percent. Wasting is the most immediate, visible and life-threatening  form of malnutrition. It results from the failure to prevent malnutrition among most vulnerable children.
Children with wasting are too thin and their immune systems are weak, leaving them vulnerable to developmental delays, disease and death. Some children affected by wasting also suffer from nutritional oedema, characterized by a swollen face, feet and limbs. When efforts to prevent malnutrition fall short, early detection and treatment of children with wasting and other forms of malnutrition are critical to save their lives and put them on the path to healthy growth and development.
Due to large number of vacant posts of supervisors, absence of required educational qualification of AWWs and ASHA and dispersed population of district residing in hard to reach villages and hamlets, growth monitoring was not effective. At same time there is discrepancy between NFHS-5 data and NITI indicators progress report of the district. On these basis this initiative was taken up.
Implementation of the intervention :
This involves convergence of ICDS, Medical & Health, Education, Rural Development and NGOs. Initially awareness about the program was created at village level in rural areas and at ward level in urban areas and then on MCHN days camps were organized regularly at aanganwadi centers across the district. 
In the month of February ,after growth measuring devices were delivered in the district, a district wide campaign for anthropometric measurement of children of0 to5 years age group taken up .In this campaign at first nutritional level of children was measured by ASHA workers with help of MUAC tape and simultaneously height and weight were measured by AWWs. Both ASHA Workers and AWWs worked under supervision of their supervisors and ANMs. To ensure that maximum children are screened, Panchayati raj, Revenue and Education Departments were also involved to motivate parents to bring their children at AWCs for screening. Out of estimated 1.23 lacs children of this age group,71447 children were measured in month February 2023 and 637 children were identified as SAM ,out of which 7 children were admitted in MTC  in month of March . Remaining 41% children are also being screened currently and the whole survey would be completed by April. In the past one year 17 children were admitted in MTC and have been brought out of the malnutrition category.
Output and outcome of the initiative/intervention & Impact on beneficiaries : In the month of February, camps were organized at all AWCs  jointly by ICDS and medical teams. In these camps out of approx.  1.23 lacs children expected to be measured ,71447 children were screened. 
These 637 SAM children were registered under Acute Malnutrition Management Action (AMMA) program.
Strategy opted to ensure accountability, transparency, timeline, accessibility and responsiveness at various level :
Orientation of field functionaries like AWWs,ASHA,ANMs and supervisors was done for effective growth measuring and during various community based event parents of kids were sensitized towards need for regular growth monitoring and healthy baby competition were organized at various AWCs to ensure healthy competition among mothers of children for proper feeding.
Sector wise monthly report of malnourished children was collected and line-listing of SAM children was done. Anthropometric measurements of children identified as SAM by aanganwadi worker and ASHA were once again done by ANMs so that error in identification can be reduced. Based on medical complications children were referred to district hospital and there if required admitted to MTC and remaining SAM children were registered in Acute Malnutrition Management Program  (AMMA) and provided with medical supplement by medical department and extra supplementary nutrition by ICDS. Weekly growth monitoring of SAM children at AWCs till they came out of SAM category and monthly follow-up for next two months so that children shouldn't be malnourished again.
Early detection and treatment of children with wasting and other forms of malnutrition are critical to save their lives and put them on the path to healthy growth and development. Suposhit Jaisan initiative has now been brought under the ambit of AMMA program which is being implemented throughout the state and detailed guidelines have been issued for early identification and line listing of SAM children, their referral as well as registration under this program.