VADA (VidhyutAapkeDwarAbhiyan)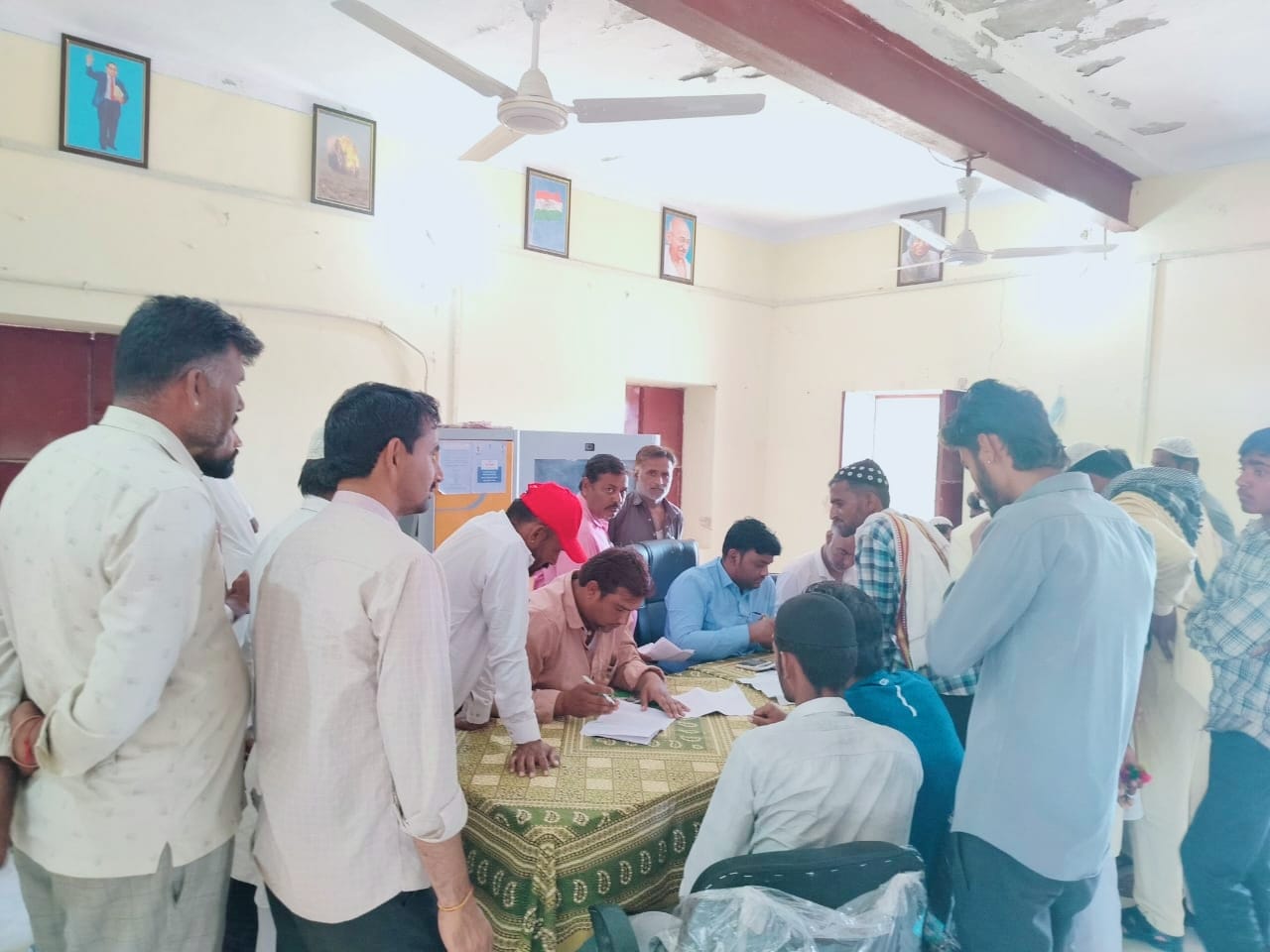 Details of the Initiative/work The Discom Circle Jaisalmer is the largest Circle in the Rajasthan covering area of 38400 sqkm with more than 800 villages. Villages and Dhanis are located at great distances and the modes of public transportation are also less, as well as due to backwardness and illiteracy, the poor villagers are generally unable to approach offices. For example, a villager living in Gram Panchayat Tanot/Nokh has to cover distance more than 120 km to avail discom related services at nearest sub-division office. The objective of VADA campaign was to improve the electricity infrastructure, quick redressal of the public grievance sand to provide quality services by strengthening the good relationship between the consumer and the department. This campaign was inspired by "Prashaasan Gaon Ke Sang Abhiyan",it was a unique campaign in itself because it is an initiative taken up by Discom Circle Jaisalmer only. The initiative entailed the whole discom office travelling to every Gram Panchayat to make it easier for villagers to air their grievances and to resolve those grievances. 
Identification of the problem and need for innovation/work Human resources in Jaisalmer Circle
| | | | |
| --- | --- | --- | --- |
| Total No. of Sanction Post | Working Employee | Vacant Post | Working Employee % |
| 945 | 431 | 514 | 45% |
There is acute shortage of human resources in Jaisalmer Circle only 45% employees are posted against the sanctioned posts and there are only 8 subdivision offices in such a large area. In view of all the above factors, there was a great need of a campaign like VADA (Vidyut Aapke Dwarke Abhiyan), in which the full office would travel to villagers for identifying their problems and solving them. Simultaneously, awareness about public welfare schemes and IT services provide by the department was also spread across villages under this initiative.
Implementation of the intervention It was decided to organize camps in a phased manner at 206 Gram Panchayat headquarters on every Saturday and Sunday, i.e., state holidays, keeping in mind not to distrub routine official work during working days. To ensure success of the campaign, Incharge Engineer with the Technical team was directed to set up a pre-camp in each Gram Panchayat, village and Dhanis for identification of problems discussed with the villagers by contacting door to door inviting public for the camp. Therefore, about 400 pre-camps were organized. Complaints received during the camp were entered in register and acknowledged to applicant with Pavati Receipt. At the end of the camp daily progress were submitted via Google Sheet and WhatsApp at Circle HQ. A district level monitoring team was formed to monitor and timely redress the complaints received daily. Citizens who were unable to attend the camp due to any reason, were requested to send application through social media/Whatsapp. After the problem received through social media, action taken and photo was again sent to the complainant. WhatsApp groupat Panchyat Level were formed to inform the officials of the department about the common problems related to the electricity department, like tilted poles, loose wire, voltage, power supply related problem etc. No extra expenditure was incurred for this campaign, it was successfully conducted with in the available budget and resources.
Time Duration-
15September 2022(Engineers Day) to 30November, 2022(2.5 months)
Output and outcome of the initiative/intervention & Impact on Beneficiary 
Progress of Camps: -
| | | | | | |
| --- | --- | --- | --- | --- | --- |
| Camp | Gram panchayat Covered | Villages Covered |  complaint received | Complaint redressed | Complaint redressed within the stipulated time limit (which required additional material/ technical sanction) |
| 609 | 206 | 801 | 4224 | 3590 | 634 |
Apart from this a large number of complaints related to supply restoration were redressed on the spot without registration. 
Analysis of Rajasthan SamparkPortal: 
Grievances Received Per Month Avg.

Relief %

(Before VADA Camp)

(After VADA Camp)

Decrease

(Before VADA Camp)

(After VADA Camp)

614

350

   42.99%

66.93%

82.74%
"MukhyamantriKisanMitraUrjaYojana"increament in beneficiaries are as below: -
Total Beneficiary in nos.

Amount(In lac)

Before VADA

(4 Month)

After VADA

(4 Month)

Beneficiary Increased

Before VADA

(4 Month)

After VADA

(4 Month)

Amount Increased (In Lacs)

11679

13041

1362

249.8

334.04

93.24
Reduction in electrical accidents: - In Jaisalmer district, a total of 126 high risk points were identified and rectified hence no accident occurred due to loosen and dangling wires. Survey of unelectrified Households: -Detailed survey of 2596 dhanis/houses deprived of electrification in the Gram Panchayat and single line diagram (SLD) was prepared and registered for upcoming schemes. To solve the problems of low voltage, the system improvement work was executed within the stipulated time by preparing estimates on the spot, as well as the previously approved works were also implemented during the camps. A total of 157 distribution transformers were installed, due to which the quality of power supply improved. Technical approvals having worth of Rs. 3 Crore were issued for new feeders for improving the power supply.158 applicants who had already deposited demand released connections and 575 applications received for new domestic electricity connections, whose demand notices issued within the stipulated time period after submission. Satisfaction level of public increased in respect of the GoR as well as Discom. Strategy opted to ensure accountability, transparency, timeline, accessibility and responsiveness at various levels Accountability: - For the successful operation of the campaign, the responsibility and accountability of the concerned personnel were fixed by various orders. Accountability was fixed through continuous monitoring of this program through IT technology like Google Sheets, Location Sharing, WhatsApp. Transparency: - In order to maintain transparency, receipts were given to the concerned complainant for cases received during the camp and registered in the register.  order to make more transparency and account ablity to the people, pre-camps and camps were organised with help and consultation with the leadership of villagers and local public representatives. Time limit: -Continuous monitoring with time frame of this program was taken for timely redressal of complaints. Accessibility: - Under the said campaign, the discom officials went to the consumer and common man or village/dhani to listen to their problems and solve them, as well as to inform about modern IT facilities and various applications (Vidyut Sathi app, portal etc.) extend their reach to department. Responsiveness%&more than 84% problems were redressed in the camp, due to which satisfaction level increased in public .Any technology and system improvement applied (other than existing)In Jaisalmer, it was a challenging task to achieve the success of the campaign due to geographical conditions and acute shortage of staff. IT facilities were included with the limited resources of DISCOM, for monitoring of instructions through video conferencing, social media Whats Appand Google Sheet were used for the purpose and print media were used to disseminate. The people living in far flung area were explained to use of modern mobile applications such as Vidyut Saathi App, Rajasthan Sampark Portal, corporation's help desk, mobile service etc. to get better services. Role of various stakeholders The stake holders played vital role in the campaign in the following manner: -Public:- The local public received VADA campaign positively. They participated in huge numbers which can be seen from the number of compliants received. Panchayati Raj Institutions and local public representatives: - People were encouraged to participate in the camp by giving wide publicity to the above campaign by the local sarpanch and public representatives. State Government:-Department of state govt viz. Panchayati Raj, Revenue Department and administrative wing of district supported DISCOM to ensure the success of the campaign.
How your intervention is replicable and suitable for other parts of state and how it is sustainable-Campaign like VADA may be adopted for public utility departments (public engineering, medical etc.) for desert, remote and tribal areas, where public still finds it difficult to go to offices for grivances redressal. This campaign enables continuous monitoring of implementation of government schemes, increasing the number of beneficiaries as well as getting rid of corruption with transparency for good governance.